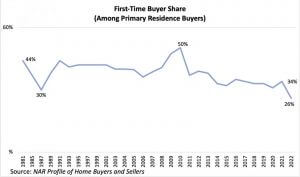 Eleven Takeaways From the 2022 Profile of Home Buyers and Sellers
Picking up the 2022 Profile of Home Buyers and Sellers can be a daunting task. There are 142 pages of content, and many charts span the 41-year history of the data set. This post helps you wade through some of the more striking changes. Here are a couple of things to note as you dive in:
The data collection period of this report is from July 1, 2021, to June 30, 2022. Over that period, the housing market has shifted from a low-interest rate, low-inventory environment with bidding wars and frenzied activity to a higher interest rate but still low inventory environment.
This report is only among primary residence buyers and does not include investors or vacation buyers. OK, let's dive in!
CLICK THE LINK BELOW FOR MORE ABOUT NAR.