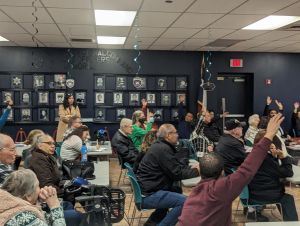 As short-term rentals continue to grow, the City of El Paso is taking steps to regulate them. The city is hosting public meetings to review potential regulations for short-term rentals. The sessions are an opportunity for REALTORS® from the Greater El Paso Association of REALTORS® to provide valuable feedback. Short-term rentals are rented to overnight guests for no more than 30 days and are typically reserved online via websites like Airbnb or Vrbo. The amendments will evaluate where these rentals may operate, permitting requirements, and enforcement actions.
REALTORS® who operate short-term rental units or have concerns about how they may function in neighborhoods are encouraged to attend one of the upcoming meetings to provide feedback. The meetings are hosted by different City Representatives and the El Paso Chamber of Commerce and will be held at various locations throughout the city. There is even a virtual and Spanish-speaking option for those who cannot attend in person.
City staff will present the changes' initial draft and welcome public feedback before City Council action.
MONDAY, FEBRUARY 20, 2023 | 5:30 PM
Memorial Senior Center
1800 Byron
Hosted by City Rep. Alexsandra Annello
TUESDAY, FEBRUARY 21, 2023 | 4 PM
El Paso Chamber of Commerce
303 N. Oregon St., Suite 610
Hosted by EP Chamber
FRIDAY. FEBRUARY 24 | 11 AM
VIRTUAL/PHONE
Via Microsoft Teams
-OR-
(915) 213-4096
(Code: 104855498#)
Hosted by El Paso Apartment Association
THURSDAY. FEBRUARY 23 | 6 PM
VIRTUAL/PHONE
Via Microsoft Teams
-OR-
(915) 213-4096
(Code:998238324#)
Hosted by City Rep. Isabel Salcido
WEDNESDAY, MARCH 1, 2023 | 5 PM
The Lunch Box
3623 Buckner St.
Hosted by City Rep. Cassandra Hernandez (SPANISH TRANSLATOR AVAILABLE)
THURSDAY, MARCH 2, 2023 | 6 PM
South El Paso Senior Center
600 S. Ochoa
Hosted by City Rep. Chris Canales
In addition to attending the meetings, REALTORS® are also asked to complete a survey regarding short-term rentals in El Paso. The survey is designed to collect valuable input from REALTORS® and will help inform the city's decision-making process. The survey can be found at the following link:
https://forms.office.com/pages/responsepage.aspx?id=-dyoZnXtb0qI4FEN-b3yqZnkR5oEah1KgrbvyyoP6apUNjVXWVBVS0xRVlVZWlFMRFNSWjhROVFESC4u.
By attending the meetings and completing the survey, REALTORS® can play a vital role in shaping the future of short-term rentals in El Paso.