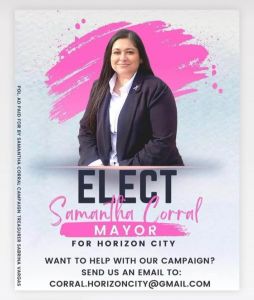 GEPAR is thrilled to announce our endorsement of exceptional candidates in the May 6, 2023, elections. As an organization committed to advocating for private property rights, GEPAR is proud to support these individuals who share our values and are dedicated to representing the best interests of our community.

We urge all our members to cast their vote in support of the following candidates: Samantha Corral, who is running for the position of Horizon City Mayor, Will Veliz (REALTOR®) for El Paso ISD District 2, David Adams for El Paso ISD District 6, Alicia Gardea for Socorro ISD District 1, Michael Najera for Socorro ISD At Large 1, Joshua Guerra for Socorro ISD At Large 2, Chris Hernandez for Ysleta ISD District 6, and Mike Rosales for Ysleta ISD District 4.

Early voting for May 6, 2023, elections starts on April 24, 2023. We encourage all eligible voters to exercise their right to vote and support the candidates who share our commitment to protecting private property rights.