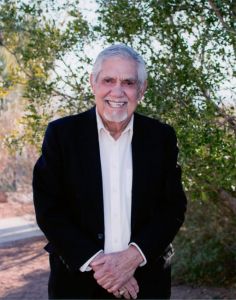 We are deeply saddened to hear of George Golden Jr.'s passing, a respected real estate community member and a beloved family man. As a longtime history teacher and coach in the El Paso area, George touched the lives of countless students and colleagues. After retirement, he continued contributing to the community as a REALTOR® with Golden Real Estate. George's passion for building homes and working on classic cars with his son was well-known among his family and friends.
Our thoughts and prayers go out to George's wife Eva, his children Frank, Elizabeth, Mary, Priscilla, and his grandchildren and great-grandchild during this difficult time. As real estate industry members, we share in their loss and offer our condolences. A funeral service for George Golden Jr. will be held on Monday, February 27th at 11:00 AM at Martin Funeral Home East, followed by a graveside service at Ft. Bliss National Cemetery at 1:00 PM.
George Golden Jr. will be missed by many, but his legacy will live on through the lives he touched and the memories he left behind. We honor his service to our country and his dedication to education and real estate, and we extend our deepest sympathies to the Golden family during this time of grief.
For more information, please click the button below.