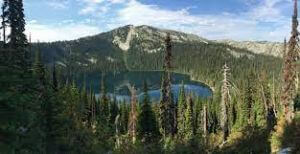 NAR to Plant 215,000 Trees in Idaho National Forests, Capturing CO2 Emissions Equivalent to More Than 12 Million Gallons of Gasoline Consumed
BOISE, ID (April 14, 2023) – The National Association of Realtors®, in partnership with the National Forest Foundation, will plant 215,000 trees in national forests throughout Idaho this year. This action will capture 107,500 metric tons of carbon dioxide emissions over their lifetime – the equivalent to the CO2 emissions released from:
Nearly 21,000 homes' electricity use for one year (20,917),
More than 23,000 gasoline-powered passenger vehicles were driven for one year (23,163),
Nearly 12.1 million gallons of gasoline consumed (12,096,320),
More than 13 billion smartphones charged (13,076,584,477) or
More than 266 million miles are driven by an average gasoline-powered passenger vehicle (266,837,098).
(Source: The U.S. Environmental Protection Agency Greenhouse Gas Equivalencies Calculator

(link is external)

)
Click the Link for More on the Story from NAR.