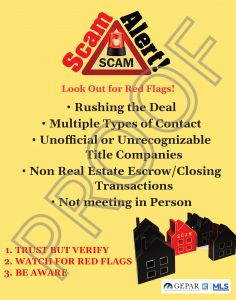 It has come to our attention that criminals are resorting to new tactics to defraud the general public and real estate professionals. Specifically, there have been instances where scammers impersonate sellers seeking to list a lot or vacant land. This form of deception can have devastating consequences if left undetected.
Reports from the Greater El Paso Association of REALTORS®, Texas REALTORS®, and other real estate organizations across the country confirm the prevalence of this activity. Recognizing the importance of your safety and the integrity of real estate transactions, we would like to share some recommended tactics to shield you and your clients from falling victim to such property scams:
To assist you in navigating these challenges, we have prepared a comprehensive tool kit that contains valuable resources and information on how to identify and avoid scams. Please click on the links below to access this invaluable resource. You are welcome to use in-office meetings or for your business.